Rabbi Aaron Stucker-Rozovsky Comes to Town Washington Jewish Week September 22, 2020. Eric Schucht. Life has changed drastically for Rabbi Aaron Stucker-Rozovsky since the coronavirus pandemic began. In that time he got married, his mother died of cancer, he bought his first house and he moved to Winchester, Va., to become rabbi at Beth El Congregation. And in addition, the 34-year-old was promoted to the rank of major in the Army National Guard, where he serves as a chaplain. read more
Beth El Congregation Welcomes New Rabbi The Winchester Star  August 28, 2020. Robyn Taylor. It's been a week of ceremonies for the new rabbi at Beth El Congregation. Today, Aaron Stucker-Rozovsky will participate in his official installation service at the synagogue on Fairmont Avenue. Last Friday — in a very different type of ceremony — he was promoted to the rank of major in the U.S. Army National Guard. Such a busy schedule doesn't fluster the 34-year-old, who recently moved here from Mississippi with his wife, Eliza. read more
Rabbi: Staying Healthy More Important Than Passover Traditions Winchester Star. April 3, 2020. Brian Brehm. In the midst of a global pandemic, Jews are preparing to celebrate their ancestors' survival of the 10 plagues sent by God. "There's no small amount of irony there," Rabbi Scott Sperling, leader of Beth El Congregation at 520 Fairmont Ave. in Winchester, said in a telephone interview on Thursday. "We're thankful for surviving plagues during a plague."  read more
Congregations  Using Technology During Pandemic," Northern Virginia Daily, March 27, 2020, Josette Keelor and Alex Bridges. Places of worship around the area have canceled services to help preven tthe spread of COVI-19, and religious leaders are being creative in how they connect with the community. . . Beth El Congregation in Winchester serves the greater jewish community. The congregation kicked off its first interactive Sabbath service via Zoom on Friday night. read more
Rabbi to Offer Series of Talks on Jewish Mysticism  Winchester Star. February 18, 2020. Robyn Taylor. Sometimes even regular attendance at a house of worship won't provide what the faithful are really craving — a greater communion with God. Jewish mysticism, an ancient tradition with Kabbalah as perhaps the most well-known form, may help reveal the divine through in-depth Torah study, prayer and meditation. read more
Winchester Synagogue Revamps Its Space. Washington Jewish Week. October 3, 2019. Jacqueline Hyman. Since doing major renovations in 2013, Beth El Congregation in Winchester has continued to make changes to its building, which was erected in 1954. Now, finishing touches are being put on the last big project, the social hall. read more
Beth El Congregation Prepares for High Holy Days. The Winchester Star. September 27, 2019. Ann Merod. Beth El Congregation is preparing for the High Holy Days. For people of the Jewish faith, the 10-day period is a time for spiritual reflection and growth, said Beth El Rabbi Scott Sperling. The High Holy Days are an opportunity for Jewish people to think about what they did well in the past year and what they can do better in the coming year. . . Music plays a special role at Beth El during regular Shabbat services and the High Holy Days. read more
Jews of Winchester, Va., Work to Create a Center for Jewish Life. Washington Jewish Week. August 12, 2019. Jacqueline Hyman. Beth El Congregation isn't just a building where people go to attend services — it's a community. . . this year, Beth El is partnering with the Institute of Southern Jewish Life in Jackson, Miss., which will allow it to use the institute's religious school curriculum, bringin speakers and host other events.  read more
Rabbi Opening Synagogue's Doors to the Community. The Winchester Star. February 22, 2019. Brian Brehm. Scott Sperling loves to teach. He was going to pursue a career in academics before deciding to become a full-time rabbi  . . . read more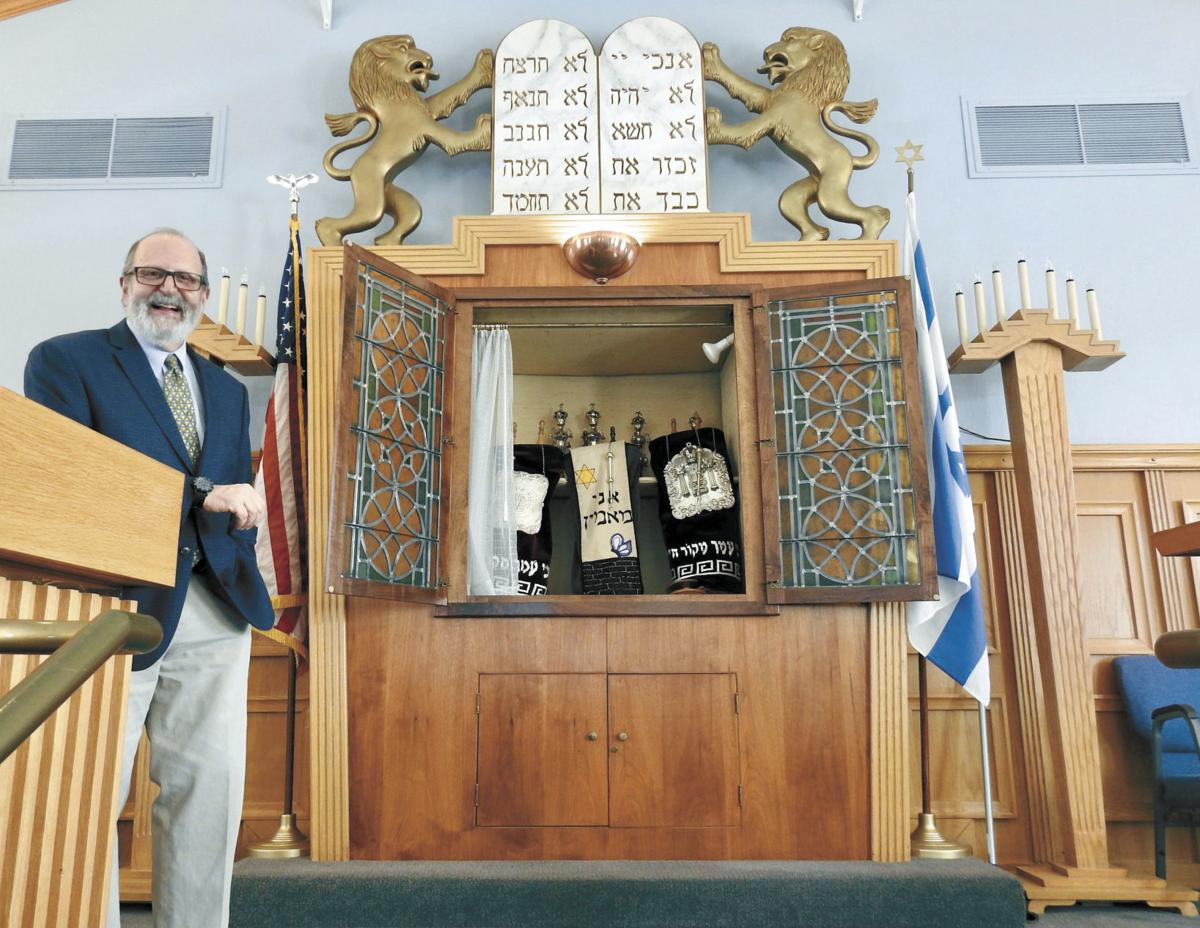 Rolling the Scroll: Beth El Prepares for the High Holy Days The Winchester Star. September 7, 2018. Robyn Taylor. A less experienced rabbi might lose sleep worrying about all the preparations necessary for the Jewish High Holy Days. read more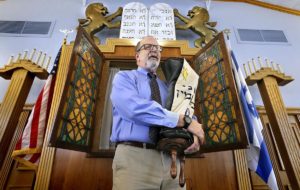 Rabbi Scott Sperling of Beth El Congregation in Winchester hold a Torah rescued during World War II from Nazi-occupied Poland. Photo credit: Jeff Taylor / The Winchester Star
Rabbi Sperling Comes Out of Retirement to Join Beth El  The Winchester Star. July 23, 2018. Onofrio Castiglia. Scott Sperling, a local rabbi active in faith-based community organizing, is out of retirement and returning to his position at the head of Beth El Congregation in Winchester. 
A Journey to Freedom: Jewish Families Prepare for Passover. The Northern Virginia Daily. April 22, 2018. Ashley Miller. Passover, which commemorates the liberation of the Israelites from Egyptian slavery, begins at sunset today. read more
Twins Dagan and Aliyah Desimone prepare haroset, a mixture of apples, nuts and wine, which represents the mortar and brick made by the Jews when they toiled for the pharaoh. Photo credit: Ashley Miller
Hamentaschen Cookie a Tasty Part of the Purim Story. The Winchester Star. February 28, 2018.  Robyn Taylor. Hamentaschen, a cookie traditionally made for the Jewish holiday of Purim, comes with a backstory complete with a dastardly villain and a beautiful heroine. Purim is a minor holiday in the Jewish faith — people still go to work and school — but it's a festive one. Purim celebrations call for dressing up in costumes, playing games and eating hamentaschen (sometimes spelled hamantaschen). read more 

A first-time effort (by Robyn Taylor) of making hamentaschen – a cookie traditionally made for the Jewish holiday of Purim. some are filled with apricot jam and some with Nutella. Photo credit: Jeff Taylor / The Winchester Star
Former Bulgarian Ambassador Shares Historical Event with Area Groups. The Northern Virginia Daily. January 22, 2018. Ashley Miller. During an assignment in Bulgaria in the late 1980s, Ambassador Hugh Kenneth Hill learned of a remarkable tale of the rescue of 50,000 Bulgarian Jews during World War II. The historical event, unknown to many, tells the story of how a country saved its population from gas chambers and death. read more
Public Invited to Hear Former Ambassador Speak Friday Night at Beth El Congregation. The Winchester Star. January 16, 2018. Robyn Taylor. During World War II, when Jews across Europe were being rounded up and sent off to Nazi concentration camps where nearly 6 million of them would die, one eastern European country was able to save much of its Jewish population. read more
The Fourth Night of Hanukkah. The Winchester Star. December 16, 2017. Onofrio Castiglia. Fiddle music, fried latkes and Hebrew prayers are all staples of a traditional Hanukkah celebration, much like the one that unfolded Friday evening at Beth El Congregation on Fairmont Avenue, where local Jewish families gathered to celebrate the Festival of Lights. read more.  To see video of event, click here. https://m.youtube.com/watch?v=s0xJWVFcxpM&feature=player_embedded. 
Beth El Congregation Comes Together to Celebrate Hanukkah.  Northern Virginia Daily. December 15, 2017.  Ashley Miller. Rabbi Peter Grumbacher is hoping many people accept his invitation to join him today at Beth El Congregation as he leads Erev Shabbat Services, including prayer, singers and fiddle music. read more.
Mariana Teran, 12, left, Aliyah Desimone, 11, center, and her twin brother Dagan, right, light their menorahs inside Beth El Congregation in Winchester. Tuesday marked the first night of Hanukkah. Photo credit: Rich Cooley / Daily
Jewish High Holy Days a Time to Celebrate, Reflect, The Winchester Star, Maggie Wolff Peterson. September 21, 2017. With the arrival of autumn come the holiest days on the Jewish calendar. Beginning with Rosh Hashana and concluding with Yom Kippur, these are called the Days of Awe, or the High Holy Days. read more 
Beth El Congregation members Steve Sosson (left) and David Grumbacher prepare Tuesday to change the cover of a Torah that survived the Holocaust in preparation for Rosh Hashana, which arrived Wednesday. The celebration marked the start of the faith's High Holy Days. Photo credit: Scott Mason / The Winchester Star
Rabbi to Share Father's Holocaust Story, The Winchester Star, April 18, 2017. Jackie Puglisi. "Ernst Grumbacher was arrested by the Gestapo and thrown into the Dachau concentration Camp on Nov. 9, 1938, during Kristalnacht, also known as "The Night of Shattered Glass." read more
Jewish Families in Midst of Hanukkah, The Winchester Star, December 27, 2016. "While Christians attended Christmas Eve services on Saturday, Jewish families began their eight-day Hanukkah holiday." read more
Monday Marks Jewish New Year, Northern Virginia Daily, September 30, 2016  "The area Jewish community celebrates Rosh Hashanah, the Jewish New Year, on Monday." read more
Interim Rabbi Helping Build a Better Beth El Congregation, The Winchester Star, September 13, 2016  Jackie Puglisi.  "Now that its previous rabbi has taken the road to retirement, members at Winchester's Beth El Congregation are working to find a new leader. In May, they hired Rabbi Peter Grumbacher to serve as . . . " read more
Rabbi Scott Sperling Retires, The Winchester Star, June 23, 2016 "Rabbi Scott Sperling spent time this week packing up his office and preparing for his last service after six years at Winchester's Beth El Congregation." read more
Sing-Along Supports Local Synagogue and Its Services, The Winchester Star, June 2, 2016  "Guests at the Alamo Drafthouse Theatre will sing along to 'If I Were a Rich Man,' 'Sunrise, Sunset' and other classic tunes during a showing of the 1971 musical 'Fiddler on the Roof.'" read more
Children at Beth El Learn How to Celebrate Purim, The Winchester Star, March 14, 2016  "Children at Beth El Congregation got messy in the kitchen on Sunday while learning about an important Jewish holiday. Young members of the synagogue, located at 520 Fairmont Ave., made hamentaschen — triangular pastries with a variety of sweet fillings — for the Jewish holiday Purim . . . " read more
What Goes on a Seder Plate?, Northern Virginia Daily, 4-1-15 "The following items are part of a Seder plate, according to a Passover 101 workshop handout from Rabbi Scott Sperling of Beth El Congregation in Winchester." read more