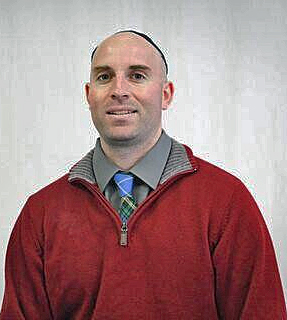 Rabbi Aaron Stucker-Rozovsky became the Rabbi of Beth El Congregation on August 1, 2020. Born in Nova Scotia, he was raised along the eastern seaboard, including several years in Richmond, Virginia where he had his bar mitzvah and graduated high school.
Rabbi Stucker-Rozovsky graduated from Providence College with a BA in History (2008), then earned an MS in International Studies with a concentration in Latin America from Central Connecticut State University (2012). He also earned an MA in Hebrew Letters from the Cincinnati campus of Hebrew Union College-Jewish Institute of Religion (HUC-JIR)(2017). In 2018, he received smicha (Rabbinical ordination) from HUC-JIR. During his time at HUC, Rabbi Rozovsky was the student Rabbi for congregations in Petoskey, Michigan and Terre Haute, Indiana.
Before joining Beth El Congregation, Rabbi Stucker-Rozovsky served as the Director of Rabbinical Services for the Goldring/Woldenberg Institute of Southern Jewish Life in Jackson, Mississippi for two years. He served congregations in 13 southern states that did not have full-time Rabbis of their own.

In addition to his Rabbinical endeavors, Rabbi Stucker-Rozovsky has been in the Army National Guard for over 15 years. Having enlisted in 2006, he was commissioned as a Military Police Officer from Providence College Army ROTC in 2008. While serving as an MP, he deployed to Naval Station Guantanamo Bay, Cuba from 2009-2010 as a Quick Reaction Force Platoon Leader and to Bagram Airfield, Afghanistan from 2011-2012 as Night Operations Battle Captain.
During his first year of seminary, which took place in Jerusalem, Israel, he served as a Liaison Officer to trauma psychologists of the Israel Defense Forces, learning their version of Master Resilience Training.
Since becoming a Chaplain, he has the distinction of being the first Jewish Chaplain in the 222-year history of the Mississippi National Guard and the first known Jewish Chaplain in the 383-year history of the Rhode Island Army National Guard. He currently holds the rank of Major and is serving in the Army Reserve as the Deputy Command Chaplain for the Army Corps of Engineers.

Rabbi Stucker-Rozovsky is joined in Winchester by his wonderful wife and Rebbetzin Eliza Stucker-Rozovsky. The Rebbetzin, a graduate of Furman University (2012 BS Biology and Chemistry) and Loyola (dual MA and MDiv 2016), received her Doctorate in psychology from James Madison University.
In their spare time they enjoy hitting the gym, hiking, preparing gourmet meals, visiting farmer's markets, and most importantly, spoiling their four rescue cats, Goonie, Rilke, Walter and Stumpy.